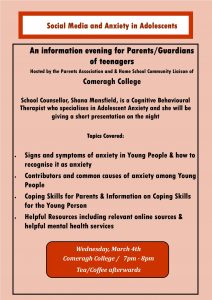 Dear Parent/Guardian,
It is that time of year again when Junior Certificate students receive their results.
Junior Cert results will be issued to students on Friday 4th October 2019 at 9a.m.
On this day there will be no classes for TY or Fifth Years.
We ask that students arrive to the school before 8.40a.m. as normal and wait in the canteen area.
They are not obliged to wear their uniform when collecting results.
Issuing of results will be completed by 9.30a.m. and the students will be ready to be collected by this time.
Parents are responsible for the collection of their son/daughter from the school at 9.30a.m. and for his/her safety thereafter.
We wish all our students every success with their results and we hope they are rewarded for all their effort over the last three years.
Please note that we expect all students to be in school on Monday 7th October 2019 at 8.40a.m.
Thanking you for your cooperation,
Yours sincerely,
Kevin Langton, Principal
A Huge congratulations to all out Students who picked up prizes recently at the IVERK Show 2018 in 15 categories
Post Primary Class Results
Class 30 Engineering/ Metalwork                           Roísin Torpey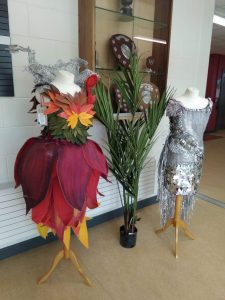 Class 31 Poetry                                                            Zoe Gough Kevin Tobin Jodie McCauley
Class 32 Craft & Design                                           Kaylynn Broxson
Class 33 Draw, sketch, painter pastels                 Eve Keane
Class 34 Modelling                                                   Lia Rolston
Class 35 Yarn Work                                                  Kylan Dam Walsh
Class 36 Fabric Work                                               Roísin Torpey,
Class 37                                                                       Adam Burke
Class 38 Woodwork Large Piece                            Evan Tynan
Class 40 Misc. (Poetry)                                            J Bourke, E McGrath, L McNamara, J McNamara, A Earl, M O'Meara, B O'Gorman, L Rolston, N Scortanu
Class 41 Engineering/ Metalwork                           Killian Cloona
Class 43 Junk Couture                                             Zoe Gough, Jade Hodkinson, Paige Tobin
Class 46 Modelling                                                  Paulina Maryniak, Leanne O Hickey, Sarah Houlthan
Class 49 Woodwork Small Piece                            Roseanne Dalton
Class 52 Misc. (Essay)                                              Giovanni Brutano,
Best Junior Woodwork piece                                 Evan Tynan
http://https://www.education.ie/en/Press-Events/Press-Releases/2020-press-releases/12-march-2020-statement-from-the-department-of-education-and-skills.html – Latest statement from Department of Education dealing with COVID-19
https://www.hse.ie/eng/services/news/newsfeatures/covid19-updates/ – COVID-19 updates from HSE
http://https://www2.hse.ie/wellbeing/mental-health/minding-your-mental-health-during-the-coronavirus-outbreak.html     – Looking after your mental health during the COVID-19 outbreak
Advice for schools preschool settings and parents dealing with COVID-19