General information for students and Parents/Guardians
Frequently asked questions – Covid 19  and School Attendance and Absences
School letter to Parents in relation to Return to School (August 2020)
Roadmap for the full return to school
https://www.gov.ie/en/publication/b264b-roadmap-for-the-full-return-to-school/

Information for Parents (August 2020)
Information for 6th year students and Parents/Guardians
Calculated Grades for Students
Calculated Grades for Parents
Implementation of Calculated Grades Model For Leaving Certificate 2020 – Guide for Schools on Providing Estimated Percentage Marks and Class Rank Orderings
(Click on following link)
https://www.education.ie/en/Circulars-and-Forms/Active-Circulars/cl0037_2020.pdf
CAO, 3rd Level, Grants, Further Education
Principals Letter April 3rd 2020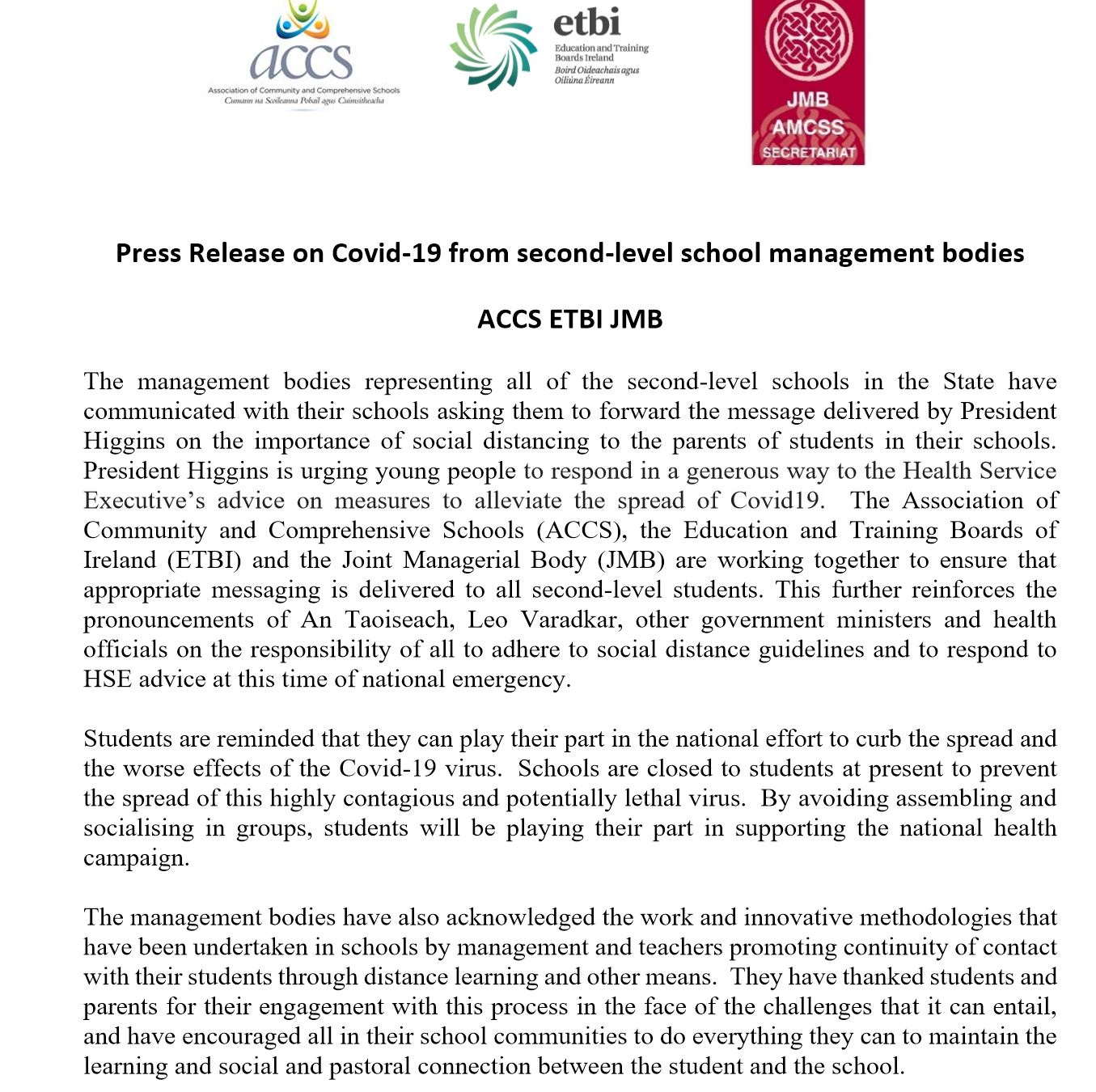 Comeragh College
Tinvane, Carrick-On-Suir, Co. Tipperary.
Telephone: (051) 640131  
Email: info@comeraghcollege.ie
Information Bulletin
Dear Parent/Guardian/Student,
I hope this message finds you well during these unprecedented times.  Further to the Government's decision to close schools to support efforts to contain the spread of COVID-19, I am writing to advise you of school continuity measures taken to date:
Thursday 12-03-2020 
We reissued/confirmed all students had their email login details
Teachers issued revision guidelines to support students' continued engagement with the curriculum during the closure.
The school closed following a directive issued by An Taoiseach
Monday 29-03-2020  
Provisional return date to school.
If the DoES confirms we can open I am inviting students to bring a small hand towel, soap /hand sanitizer in a plastic zip-lock bag.  The school was struggling to source new dispensers and hand sanitizer prior to our closure as the HSE had understandable priority.
The school will continue with actions to prepare for our return to the campus. The following guidance is to support students as they prepare for their summer/state examinations:
The State Examinations Commission (SEC) will circulate guidance on contingency arrangements if they are required.
The school will communicate any such arrangements through normal channels such as text, twitter and school website.
The SEC announced the cancellation of the oral and practical performance tests of the Leaving Certificate and Junior Cycle examinations, which had been scheduled to take place from next Monday 23rd March to Friday 3rd April, and to award full marks to candidates due to take these tests;
That schools and candidates are allowed flexibility in relation to the completion of other project work and coursework across a number of subjects which are currently scheduled to be completed in the period 20th March to 24th April. Students will now be allowed to complete this work up to 15th May, which will allow candidates time to complete this work.
That the SEC, in conjunction with the Department of Education and Skills, will continue to monitor the evolving situation very closely and will act in accordance with Government and public health advice
Please check for further accurate updates on the SEC website
Pre exams results- Ms. O'Dwyer will forward exam results to teachers as she receives them. Subject teacher will communicate these results to their students.
Teaching and Learning: 
Your current school timetable provides you with an excellent structure to organise your day. Teachers will be available online during normal timetabled hours each day. Please message and work with your teacher during this time. Any messages sent outside of this time will be picked up the following day. The school advises parents to encourage their daughter(s)/son(s) to submit assigned work. Please urge them to do so within agreed timeframes as this will help them with the transition back to school.
Please be mindful that code of behaviour applies when working on the school online system.
Students please note questions can be asked via direct message to the teacher or via the class page.
If you are having any issues with your teaching and learning – please email your Director
Director emails:  
Year 1       rhallahan@tipperaryetb.ie
Year 2       kcahill@tipperaryetb.ie
Year 3       glarkin@tipperaryetb.ie
TY             dbreen@tipperaryetb.ie
Year 5       eblackmore@tipperaryetb.ie
Year 6       mlanigan@tipperaryetb.ie
All years – General study guidance
Timetable subject
Learning Activity
Preparing for assessment
Assessment
at the end of the week
History – Pick a topic in your textbook

Make notes/ mindmaps/flashcards on the topic under review

Use Revise/studyclix to identify questions from past papers and/or complete end   of chapter questions

Use studyclix to create exam questions, do end of chapter questions to test yourself
Other educational supports and links are available on our school website
Emails- if you have lost your email or have any difficulty please contact Elaine office@comeraghcollege.ie please include the following information
Name:                      Year:                     Email:
Phone numbers: if you have changed your phone number or contact details over the last few months- please email Elaine with new details office@comeraghcollege.ie
Student Support information has been updated and is available on the school website https://www.comeraghcollege.ie/covid-19-useful-resources/
Twitter: Please follow our twitter page for updates or just google Comeragh College twitter
Health and Safety:  if a student is confirmed with Covid 19 – please contact Diane Hyde- HSCL dhyde@tipperaryetb.ie  Phone 087 7840601
Wellbeing
We would encourage you to stay in contact with your friends.  Peer learning is one of the most effective methods to support curriculum engagement.  Use technology sensibly to connect and learn together.
Further information on internet safety is available on the school website
Breaks, exercise and healthy diets are crucial to staying healthy
This is an unprecedented situation, and the school community is conscious that in these difficult times, we will come together to find solutions. We always work in the best interest of our students. It is an unusual time for us all, and we need to work together to delay and limit the transmission of the COVID-19 virus.  We encourage parents to emphasise the importance of social distancing to all in their care, so we as a nation can protect the most vulnerable in our communities.
I also want to acknowledge that many of our students might find the uncertainty of the forthcoming weeks quite unsettling.  I want to take this opportunity to reassure parents and students alike that the SEC and DES have always made decisions which are student-centred and mindful of the immediate environment.   We have no control over what decisions the state agencies make; we do, however, have control over what actions we can take. So please remain focused on your study schedules and your preparations for the state examinations.
Finally, on your behalf, I would like to thank our staff for their assistance and proactive actions to support your daughter(s) and son(s).  The staff and your daughter(s)/son(s) are a credit to our school community.
 
Yours sincerely,
  K Langton
________________
Principal